I am very honored to be included in "100 Alumni Stories" in commemoration of 100 years of the University of Oregon School of Architecture and Allied Arts. 
The stories are snapshots of alumni careers and projects from all of the decades of the AAA department. Check out 100 stories at:  aaa.uoregon.edu/100stories
The artist behind the Lawrence Medal
Wednesday, June 12, 2013
Lin Cook was commissioned to design the first Lawrence Medal — a prestigious honor now awarded annually to a distinguished graduate — in 1999. She has produced every medal that has been presented since then.
"Metal is the medium in which I can express myself artistically," says Cook, BFA metalsmithing and jewelry '80, who based the design of the medal on a rosette motif from the columns at the Jordan Schnitzer Museum of Art (JSMA, a building designed by Ellis F. Lawrence.) "With metal you can define an edge, an important element of my design language.
Above: Lin Cook, who designed and has produced the Lawrence Medal since 1999, poses with a panel she designed for a public art project on the EMX bus route in Eugene-Springfield.
A protégé of the late, and much revered, UO art professor Max Nixon, Cook also helped to save the jewelry and metalsmithing program. Using a mailing list from a show she and fellow students had persuaded the UO Museum of Art (now the JSMA) to host, she encouraged alumni to write letters expressing what the department had done for them. It worked. The program was saved.
Cook is still an advocate for keeping the local community of artists in the forefront. "Local public art projects not only enhance our spaces," she says, "but build important working networks and contribute to our economy."
As an independent metal designer and sculptor for Eutectica Design, Cook has completed a number of public art pieces including metal sculptures featured around the Eugene community. Most notable, Cook has metal sculpture in McKenzie Hall and the Zebra Fish Courtyard at the UO, metalwork at Sacred Heart Hospital in Eugene, and artwork stretching along the EMX station from Eugene to Springfield. "I discovered each neighborhood had native plants near the stations, and so that became the subject of the artwork at each of the eight stations," recalls Cook of the EMX project. "The natural world highly influences and enriches me."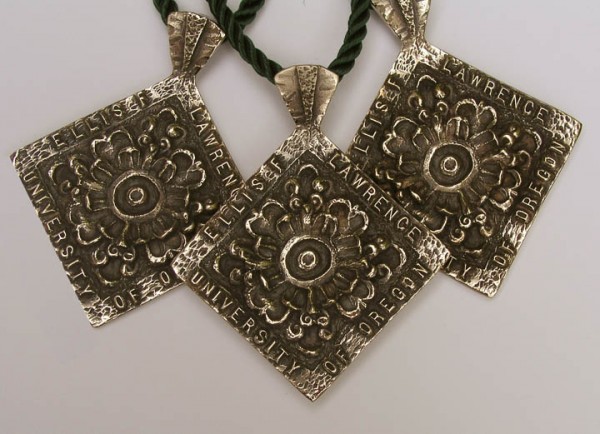 Above: The Lawrence Medal, designed by artist and UO alumnae Lin Cook.
Q: How did you first begin designing and producing the Lawrence Medal for the School of Architecture and Allied Arts?
LC: The University and Assistant Dean Karen Johnson asked me in 1998 to design and produce the Lawrence Medal, based on one of the tiles at the U of O Art Museum, which was designed by Ellis Lawrence (for whom Lawrence Hall and the Lawrence Medal are named. Lawrence also designed the Jordan Schnizter Museum of Art). This past year I realized it may be the last time I make them, so I produced twenty-two medals. Gary Dawson, BA '82, a friend from my U of O days, made a mold of the medal that can be brought out and used twenty-two years from now.
Q: Why did you choose to begin your own business, Eutectica Design?
LC: I say I put myself through college painting large mono-color murals: I painted houses. I've always thought I needed to work for myself. I'm claustrophobic; I need fresh air and can't sit at a desk very long. I enjoy the process of metalworking, and love working at home on our ten acres in the foothills of the coast range. The natural world highly influences and enriches me.
Eutectic is a metallurgical term. I liked the sound of it, and the way the letters flow visually. But there was a welding company of the same name thirty years ago, so I feminized it with an "a." Since I am a sculptor, jeweler, designer, furniture maker, artist, etc., "eutectica" was perfect in its obscurity.
Q: Do you have one medium in particular that you enjoy to work with most? If so, why?
LC: Metal is the medium in which I can express myself artistically. It takes a lot of effort in this material to make forms and shapes. With metal you can define an edge, an important element of my design language. It's as if you are drawing in 3D. I've worked with cast and fabricated stainless, bronze, aluminum, steel, copper, titanium. I once became very interested in glass, but I thought, no, I know far too much about metal.
Q: What is a typical workday like for you?
LC: I review my list from the day before and figure out what needs attention. I have several projects going on at once — right now the production of a kitchen utensil and a cast stainless steel side table are a priority. Several sculptures are in the works.
Q: You have an impressive number of pieces that are in the public. What does public art mean to you?
LC: The challenge right now is that many pieces are being laser cut and fabricated in China at a fraction of the price that it can be produced here. It is the same problem as other industries: low wages there and the metals, particularly stainless steel, are now produced there. Artists fabricating here cannot compete.
It is very hard to find money for the arts as it is. It will be an even bigger problem once the public discovers it too is being outsourced. On one of my projects I utilized a half dozen other companies based in Eugene. On another, I counted twenty-six people who worked on a project through other companies — they provided sandblasting, power coating, laser cutting, or computer work, etc. I talked to workers who were so proud to point at these pieces and tell their kids, 'I worked on that.' These are local jobs. Local public art projects not only enhance our spaces but build important working networks and contribute to our economy.
As I get older I am more particular about public projects. An adjacent office and a small fabrication studio I designed and built are really great spaces to be in, so if I'm not in one of our fabrication studios, I spend my afternoons and late into the evening there making models, drawing, writing proposals, reading, studying sculpture, architecture, and design. My big influences are Noguchi, Anthony Caro, Naum Gabo, Zaha Hadid, and of course, Brancusi.
Q: How do you become inspired for your work?
A: Since public art works are site-specific, the designs come from the architecture or the site itself and the users of the site. The EMX station artwork from Eugene to Springfield celebrates native flora along the route. I walked the route a couple of times and was quite baffled on how to draw together such diverse neighborhoods —the university to the industrial area. In Glenwood, I looked down and saw beautiful blue chicory growing out of the pavement. I discovered each neighborhood had native plants near the stations, and so that became the subject of the artwork at each of the eight stations. I oversized the flowers or leaves in cast metal, and welded them onto hand-sanded laser-cut panels. I had fun with them and have gotten great feedback on that project.
Travel is very inspirational. Many trade magazines had tracked the design and build of Gehry's Bilbao museum for years. When it was completed, we had to see it. Recently I traveled with my dear friend, mentor, and incredible local jeweler-sculptor Ruth von Buren to Switzerland, her native country. We toured Vitra Design Center, where Zaha Hadid's first design was built. It was a failure in construction and use, but fascinating nonetheless. Travel is an education in itself. I used to do a presentation at Willamette High School on career day. My first twenty images were from travels around the world.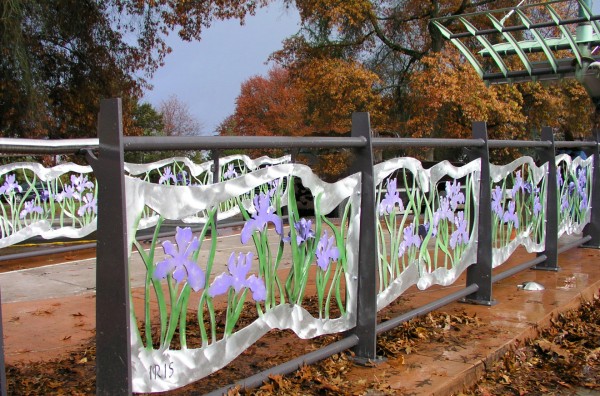 Above: Cook designed and produced panels of blooming iris as part of the artwork along the EMX bus route from Eugene to Springfield. "I discovered each neighborhood had native plants near the stations, so that became the subject of the artwork at each of the eight stations," she says.
Q: What would you suggest current students do to get the most benefit from their time at UO?
LC: Take classes you don't think you need to take. If something is even remotely related to the field you are interested in or not related at all, it can really jump start thinking in new directions.
And make friends. Great connections are made in school. Take the ear buds out and talk and listen to others — there is so much going on that can enrich your life.
Q: I understand that your husband, Jerry Harpster (MA '70, MFA '80), is also an artist. Is there a relationship between him and your work?
LC: Jerry is also a sculptor and metalsmith. We have very distinct and different design language. His background, with masters degrees in mathematics and metalsmithing, informs his sense of design and problem-solving skills. He used to fabricate and cast his own work and cast for others. The past decade or more he generally casts elements for my public art projects and helps me to realize my ideas along with producing some of his own work.
Jerry and I brainstorm on cost-effective ways to realize the designs for public art projects, as well as on mechanical and practical details such as attachments, installation, etc. All these things are thought about early on in the design process. Our different perspectives work very well together for problem-solving.
Q: How did your time at UO help you to succeed in your career?
A: I was very influenced by Jan Zach (1914-1986) at the UO. He was the real deal, an amazing sculptor. He lived and breathed sculpture. He retired a year after I arrived at the U of O. But Jerry and I became great friends of Jan and his wife, Judith. We watched over her after Jan died. I was incredibly lucky to have known Jan and knew I was in the presence of rare greatness. Fortunately Willamette University has archived his works and Judith gifted his sculptures to their Hallie Ford Museum. Max Nixon (1926-2000), the metalsmithing and jewelry professor, was another gem. He so often comes to mind. He and his wife, Hattie Mae, also spent quite a bit of time with us here at our hillside home. My architecture classes at the U of O were extremely important to my career. I took them mostly to develop my presentation and drawing skills because such classes were not available in the art department at the time.
Q: Is your career what you expected it would be while a student, or did you wind up taking a different direction?
LC: I hoped to make a living as a sculptor, but knew it would be extremely difficult. I started a wholesale jewelry business and had a rep that traveled the West Coast and obtained wholesale orders for me from boutiques and art-to-wear stores. At age forty, I realized I was working fourteen hours a day with no time for sculpture and had to make a change. I gave up the wholesale business and concentrated on my sculpture. I still do special jewelry commissions and one-of-a-kind pieces. Jewelry is more immediate and a break from the big machines and the physical workout required to produce larger sculptures. And allows one to wear sculpture.
Q: Do you have a memory of a class or professor or other UO-related story you'd like to share?
LC: Jerry and I were very fond of Max Nixon. In fact we met in his class when Jerry was there to get his second master's degree. Jerry, Greg Wilbur (BFA metalsmithing and jewelry '78), and I had formed a guild and were about to put together another group show. We had the great idea to invite Max to the show since he was nearing retirement. As we thought about it, we decided maybe it should be a "Big Show" including former students. We approached the museum with our idea, and they accepted. We did the work — got the lists and contacted former students and graduates with BFA's and MFA's. In the end, 108 former students each showed two works in metal, along with a special exhibit of Max's work. The museum show, "28 Years: Metalsmithing with Max Nixon" had the largest opening in its history. It was fabulous. Whenever we saw Max he never failed to mention how incredibly wonderful that show was and what it meant to him. We shall never forget it.
Q: Were there any particularly compelling issues on campus when you were here?
LC: After I graduated with a BFA and Max Nixon was nearing retirement, it looked like the metalsmithing and jewelry program was going to be cut. I used my mailing list from the museum show to encourage former students to write letters expressing what the program had done for them and how important it was, since many had their own businesses. It worked. Many, many concerned letters came in, and the program was saved.
Q: What are you most proud of professionally?
LC: I can't think of any one thing. Public art projects require a certain acquiescence to the parameters of the project at hand, but I find that a part of the creative process: Those things that might appear as limitations are part of the challenge as a designer. I am proud and happy that I have stayed true to my own design language and sensibility.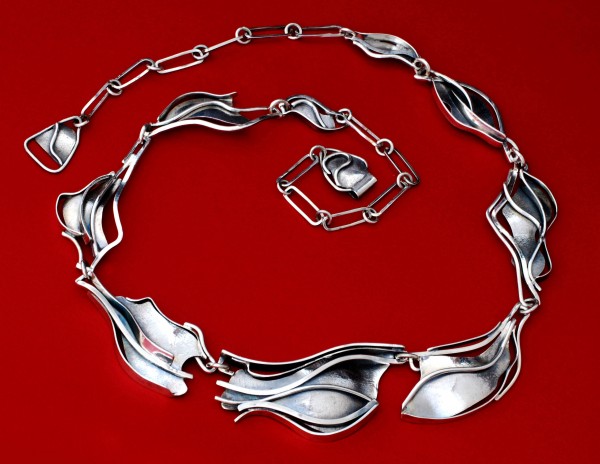 Above: Cook designed this necklace as a private commission.
Story by Cari Johnson