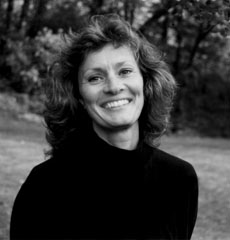 Lin Cook        
EDUCATION:       1980 B.F.A. METALSMITHING; SPECIAL STUDIES IN ARCHITECTURE,  AND SCULPTURE;  UNIVERSITY OF OREGON,  EUGENE, OREGON
PERSONAL:         Born in Owosso Michigan; STUDIO METAL ARTIST SINCE 1971. OTHER INTERESTS INCLUDE ARCHITECTURE AND DESIGN, INFORMATION DESIGN, AND TRAVEL:  EUROPE, ASIA, NEPAL,  TIBET, INDONESIA AND THE TROPICS.
INFLUENCES:    Naum Gabo, Kandinsky, Le Corbusier, Moholy-Nagy, Martin Puryear, Anthony Caro, Zaha Hadid
Eutectica Design specializes in site-specific artworks and sculpture in fabricated and cast metals.  My initial approach to public art is to formulate a "response to place" by considering   the site and its surroundings; the users of the site; the vision of the project partners, and the architecture of the structures to create a "sense of place". This commitment to the overall vision of the project is the foundation for a successful integrated design. The development of innovative solutions within the unique parameters of each project is an important part of the creative process.
Each site has a story to tell, and it is my goal to reflect that story by creating engaging artwork that celebrates the site. I hope to intrigue the viewer through my unique design language: the exploration of abstract and interesting shapes, curvilinear forms and the exciting balance and movement found in asymmetry. My sculpture utilizes the definition of bold lines and emphasizes strong compositional arrangement of intriguing shapes and forms.  My abstract art encourages a sense of timelessness and offers playful opportunities for discovery, contemplation and exploration. Representational works specialize in reinforcing what is special at a site.
Our visual expectations are influenced by the familiarity of repeated and recognizable environments that attempt to provide a sense of security yet ultimately homogenize our experiences. Exciting art, architecture, and unique environments encourage inventive, critical thinking and enrich our experiences. Sculpture invites contemplation and intrigue, and can jump-start our thinking in new directions. Sculpture can be our visual playground, a break from the environment of the ordinary.
Complete familiarity with building construction and blueprints, coupled with superlative planning and organization that begins early in the design, has given me a successful record of working within distinct parameters to complete projects on time and within budget.  Eutectica Design has worked with architects, municipal design teams and private and corporate clients to produce architectural scale artwork from my exact scaled models specifically designed and created for each unique project.   Eutectica Design also incorporates many specialties when needed:  CAD, computerized laser technology, and specialists and technicians in the metal fabrication industry. My studio also produces a line of interior art objects, furniture and life-size vessels.
Eutectica Design creates unique sculpture that identifies, differentiates and enriches our everyday environment with innovative, interesting, enduring and thought provoking works of contemporary art.
"Whatever you do, do it boldly.  Boldness has a magic, a genius, a power in it."   Goethe
Selected Public Art Commissions and Exhibitions:
 2011       Willamette River Bridge Art Project, ODOT State of Oregon; Semi-finalist on Monumental Passage Sculpture
2010       Lane Transit District Rapid Transit: Sculptural Railings at new EMX Station in Eugene, Oregon;  Fabricated, Cast and painted Aluminum
2007-8    Sacred Heart Hospital at Riverbend: Springfield, Oregon;  Sculptural Stairway and Atrium Railings for OHVI Atrium;  Steel and Cast Bronze Art Panels
2005-6     Lane Transit District Rapid Transit: Sculptural Railings for 8 New EMX Stations From Eugene To Springfield, Oregon :  8 Different Native Plants "Celebrate Oregon Flora along the Route" Cast, Fabricated and Painted Aluminum
2002       Oregon State University Environmental Computing Center; Corvallis, Or; Finalist/ Proposal: Abstract Outdoor Bronze Sculpture Based On Kelvin-Helmholtz Billows Theory; Acquisition Fund Established for "Bronze Billows"
2002       Silver Creek Gallery, Silverton, Or; Metalmorphosis: Sculpture Show with Jerry Harpster
2001-2    Gallery At The Airport, Eugene, Or; Heavy Metal: Paper and Metal Maquettes, Photos and Working Drawings of Completed and Current Public Art Projects
2001       Chetwynd Staplyton Gallery, Portland, Oregon:  A Tribute To Tibet: Sculpture and Metalwork Influenced By Travel To Tibet In The 1980's
2000       University of Oregon, Eugene, Or: Mckenzie Hall % For Art Commission; An Indoor and Outdoor Sculpture,
       Inside: 22 Foot Bronze Fabricated Abstract Wall Sculpture: "Blu Stratus"; U.S. Competition                                                                                                                                                                                                            
2000       Zebrafish Facility, University of Oregon, Eugene, Oregon: Cast Bronze Sculptural
 Courtyard Seating: 3 Benches and 5 Seats, % For Art Commission; National Competition
 2000       Washington State Convention Center Gallery, Seattle, Wa: Seattle Metals Guild Show
 2000       Commencement Art Gallery, Tacoma, Washington:  Juried Metal Sculpture Show
 2000       Jacobs Gallery, Hult Performing Arts Center, Eugene Oregon, Metals Guild Show
1999       Oregon Institute of Technology, Klamath Falls, Or; Public Art Commission Aluminum Kitevanes; Collaboration With Jerry Harpster
1999       Contract to Design/Produce Annual "Ellis Lawrence Architecture Award" For University of Oregon Architecture & Allied Arts Department; Given annually to outstanding alumnus
1998       City of Eugene, Oregon, Public Art Commission:  Fabricated Outdoor Abstract Stainless Steel Wall Sculpture: "Cirrus"    
1998       Jacobs Gallery, Hult Center, Eugene, Oregon; Solo Sculpture Exhibition 
"Isomorphic Metals, Contrasts In Scale"  Sculpture, Jewelry and Large Vessels                          
1997       Contemporary Crafts, Portland, Oregon: National Invitational "Bauhaus" Sculpture Show                     
1997       University  of Oregon, Eugene, Oregon;  8 Moving Aluminum Kitevanes, Pacific N.W.;W/Jerry Harpster 
1997       Contemporary Crafts, Portland, Oregon; Invitational, "Sculpture In The Garden"
1996       Selco Financial Center, Springfield, Oregon;  42 Ft. Wall Relief: Corporate Art Commission
1995       Eugene Parking Garage, Eugene, Oregon; % For Art Finalist
1993       Lane Community College, Eugene, Oregon; National Metal Show, Invited Artist
1992       Maude Kerns Art Center, Eugene, Oregon; 4th Biennial Sculpture Show, Invited
1989       Jacobs Gallery, Hult Center, Eugene, Oregon; 3 Person Metals/Sculpture Show
1988       Eugene Water And Electric, Eugene, Oregon; % For Art Finalist
1988       P.R. Coonley, Palo Alto, Ca; Northwest Expressions: 4 N.W. Artists; Invited              
1987       Metropolitan Arts Commission, Portland, Oregon; % For Art Finalist
1987       Bellevue Art Museum, Bellevue, Washington; Design Award + Invitation To Show
1985       Contemporary Crafts, Portland, Oregon; Invited N.W.  Artists             
1985       U. of O. Art Museum, Eugene, Oregon; Co-founder/Curator;
                 Alumni W/ Max Nixon; National Metalsmithing Show with 120 Department Graduates
1984       Aaron Faber Gallery, New York, N.Y.; National Juried Metal Design Show
Memberships:   International Sculpture Center, Professional Member;  American Craft Guild, Professional Member; National Association of Photoshop Professionals; Creative Metal Arts Guild, Portland, Oregon; Advisory Board, Jan Zach Collection, Willamette University, Salem, Oregon